AUTOCOUNT POS – POINT OF SALE (RETAIL)
The AutoCount Point of Sale software assists a business in maintaining a record and creating a database of its sales, customers and inventory. This offline AutoCount POS system synchronizes data in real-time between the terminal and the Microsoft SQL backed database server. The AutoCount POS comes equipped with the AutoCount Accounting software which makes it multifunctional.
Fully integrated with AutoCount Accounting – Post AutoCount POS transaction directly modules into Accounting modules seamlessly without repetitive entry.
Chain Store management – Manage the system from HQ and receive the daily sales report in real time. Ideal for multi-outlets retails operation.
Scalable & Extensible – Customize the systems according to your needs and designed to grow alongside with your business.
Access control with audit trails – determine the access rights and permission setting on what your staff can see and do with audit trails capabilities.
Business intelligent report – Customize sales or inventory reports easily to monitor branch performance and manage stocks better.
Integrated with mobile Payment/e-Wallet – this system is equipped with mobile payment/e-wallet integration across Alipay, Boost, Touch 'n Go eWallet and more. This allows you to receive payment instantly without boundaries. Embracing mobile payment will take your business to next level.
ASTONISHING FRONT-END FEATURES
Beside fascinating standard features and reports, you may customize the AutoCount POS to meet your unique requirements of operation and report.
Price checker

Sales return of items with serial number/warranty control.

Batch item with expiry date control.

Weighing Scale (with/without barcode).

Trade-in, return, refund, exchange items.

Item package or item template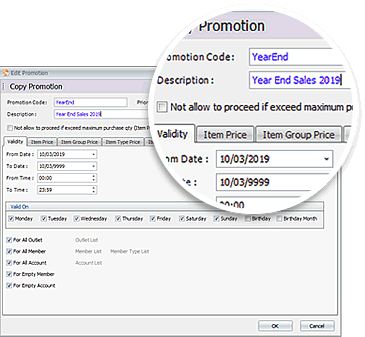 MANAGE PRICES, DISCOUNT & PROMOTIONS
Pricing matter is crucial in retail business. That's why AutoCount POS is equipped with features and function for you to plan your prices, discounts, memberships, seasonal or happy hour discount, specific promotion etc.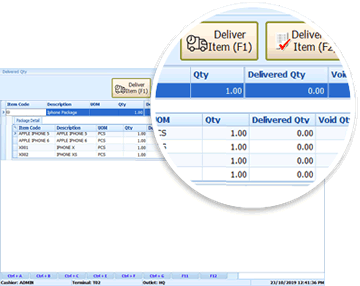 BETTER MANAGED ORDERING PROCESS
For retailers who accept ordering and deposit before delivery, AutoCount Retail POS will be a great helper with its practical design and easy to setup/use. You can also:
create/print Sales Order with detailed items description and status of payment and delivery.

Process multiple partial payment and multiple partial delivery.

Control the amount of deposit should be collected before partial/full delivery.

Produce/view reports of outstanding/completed Sales Order (delivery and payment).

Auto recognize and generate Invoice upon completion of sales cycle .

Integrate with AutoCount Accounting for posting of deposits and sales entries.

MAINTAIN STRONG TIES WITH VALUE CUSTOMERS
In AutoCount POS System, you may track a customer's purchase history and behavior and may roll out appropriate rewarding scheme and better manage valued customers with scheme such Loyalty program, Membership value customers with study customer's buying pattern and roll out promotional activities.