Zeoniq POS


Cloud technology keeps your data safe and contributes to lower expenditure. Highly flexible, you can customize it to meet your demands from time to time.

Centralized control over your data

With an embedded central data management system, you can quickly and easily get all the information you need from a single location.

Accessible via any device anytime, anywhere

You need not be physically present to run your business. Do it at your pleasure, from any device, anytime you like

.

Remain protected at all costs

Keep yourself worry-free with a comprehensive security framework that is multi-layered to guard any form of information and communication.

Key of Features Retail Management System
All inclusive features to manage many stores at once

Possess absolute control over your retail chain environment at your fingertips

Practical functions to better organize your inventory

Check your stock availability using an automated system that classifies all your materials with the most accurate
and detailed information

Automated data analysis to improve business


Obtain integrated sales data in all your stores from real-time reports to boost your sales.

Easy integration of ERP and accounting solutions


Run your business effieciently without having to worry about the financial aspects of your operations.
POS System In Malaysia
EASE YOUR BUSINESS EASE YOUR LIFE
IRS Software is a well known and the best choice of Point of Sale System in Malaysia that was established in 2002 with 30,000 clients and 100+ dealer all around of Malaysia including Selangor, Kuala Lumpur, Penang, Melaka, Johor, Sabah, Sarawak, Perak, Seremban, and more. As a striking and best POS System development company that able to compete with other competitors and fulfill the current market niche, IRS Software has developed and delivered some of the most effective and easy-to-use solutions to our customers from different sectors such as retail and restaurant.
IRS Point of Sale Systems is user-friendly and cost-effective, which is why we have clients from a great range of industries in Malaysia namely automobile, restaurant, retail, pharmacy, education, hardware, bubble tea, salon, cafe, bakery, mini market, grocery , pet shop, skincare, hand-phone, bakery, mini market, grocery, petshop and more. In a fast-paced world like ours, it is important to have efficient POS System, especially retail and restaurant. When time becomes precious, a high-quality POS system becomes very useful, saving time for retailers and customers.
If you're looking for a Cloud POS or Window Based POS System that able cater to your needs in Malaysia, please feel free to contact us for a FREE DEMO.
IRS Software offers different types of POS Software that are beneficial to your company in Malaysia, such as the restaurant POS system, retail POS system and Cloud POS. Our POS Software will help you to increases the efficiency and effectiveness of your business operations in Malaysia in the long run.
Specially designed for restaurant runs afterpay mode - eat now, pay later. Your customer are free to add on any order before payment.

FeedMe offers restaurant's owners a better ways to advertise to specific groups of customers
| | | |
| --- | --- | --- |
| Customers browse menu & place an order | Enjoy meal and customer free to add on any order | Payment made when customers finish their meals. |
Customers browse menu and place order (Order will directly send to kitchen printer)

Payment





Customer will made their payment after finish ordering

Customer grab & enjoy their food after payments have been received by restaurant
| | |
| --- | --- |
| | We support fast casual restaurants with pay in advance feature. Your customers make order, make their payments and grab their food. Pay in advance attract specific group of customers to consume. |
| | |
| --- | --- |
| FeedMe POS System function as scan qr code to order that would achieve reducing labour expenses by more than 50%. | |
| | | |
| --- | --- | --- |
| Processing card payments such as credit card & debit card | Mobile-based payment facility to enable funds transfer by scanning | Online prepaid account used used to store money and make transaction |
| | |
| --- | --- |
| | A cashless economy refers to the kind of economy wherein most transactions are carried out in the digital format. You no longer need cash for making payments as there are several wallets, online payment, cards which can make things easier for you |
| | |
| --- | --- |
| | Cooperate with various delivery platform, FeedMe POS System assists your business increase sales. |
AUTOCOUNT POS – POINT OF SALE (RETAIL)
The AutoCount Point of Sale software assists a business in maintaining a record and creating a database of its sales, customers and inventory. This offline AutoCount POS system synchronizes data in real-time between the terminal and the Microsoft SQL backed database server. The AutoCount POS comes equipped with the AutoCount Accounting software which makes it multifunctional.
Fully integrated with AutoCount Accounting – Post AutoCount POS transaction directly modules into Accounting modules seamlessly without repetitive entry.
Chain Store management – Manage the system from HQ and receive the daily sales report in real time. Ideal for multi-outlets retails operation.
Scalable & Extensible – Customize the systems according to your needs and designed to grow alongside with your business.
Access control with audit trails – determine the access rights and permission setting on what your staff can see and do with audit trails capabilities.
Business intelligent report – Customize sales or inventory reports easily to monitor branch performance and manage stocks better.
Integrated with mobile Payment/e-Wallet – this system is equipped with mobile payment/e-wallet integration across Alipay, Boost, Touch 'n Go eWallet and more. This allows you to receive payment instantly without boundaries. Embracing mobile payment will take your business to next level.
ASTONISHING FRONT-END FEATURES
Beside fascinating standard features and reports, you may customize the AutoCount POS to meet your unique requirements of operation and report.
Price checker

Sales return of items with serial number/warranty control.

Batch item with expiry date control.

Weighing Scale (with/without barcode).

Trade-in, return, refund, exchange items.

Item package or item template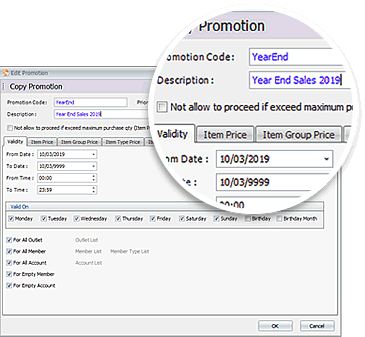 MANAGE PRICES, DISCOUNT & PROMOTIONS
Pricing matter is crucial in retail business. That's why AutoCount POS is equipped with features and function for you to plan your prices, discounts, memberships, seasonal or happy hour discount, specific promotion etc.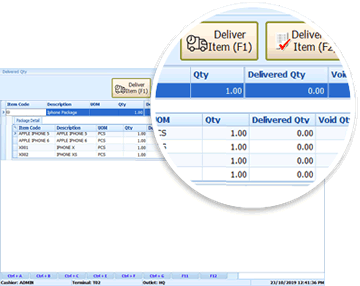 BETTER MANAGED ORDERING PROCESS
For retailers who accept ordering and deposit before delivery, AutoCount Retail POS will be a great helper with its practical design and easy to setup/use. You can also:
create/print Sales Order with detailed items description and status of payment and delivery.

Process multiple partial payment and multiple partial delivery.

Control the amount of deposit should be collected before partial/full delivery.

Produce/view reports of outstanding/completed Sales Order (delivery and payment).

Auto recognize and generate Invoice upon completion of sales cycle .

Integrate with AutoCount Accounting for posting of deposits and sales entries.

MAINTAIN STRONG TIES WITH VALUE CUSTOMERS
In AutoCount POS System, you may track a customer's purchase history and behavior and may roll out appropriate rewarding scheme and better manage valued customers with scheme such Loyalty program, Membership value customers with study customer's buying pattern and roll out promotional activities.